Winter was beginning to turn to spring when we arrived at our last stop in Italy, as shades of pink trees dotted Torino's wide avenues, and we were collected from the train station.
As the first capital of Italy (alas for only a very short period), home to Gigi D'Agostino (haha) and a city famous for its chocolates, we were excited to discover Torino. But first, there was work to do.
Food, and Workshops About Food!
The very next morning we attended a conference on mobility, and as a city from where comes Fiat and hence Torino was designed to be navigated around through cars, it was a very relevant topic. We gave a presentation about Europe on Track and looked forward to our session on sustainability in the food industry at Bunker.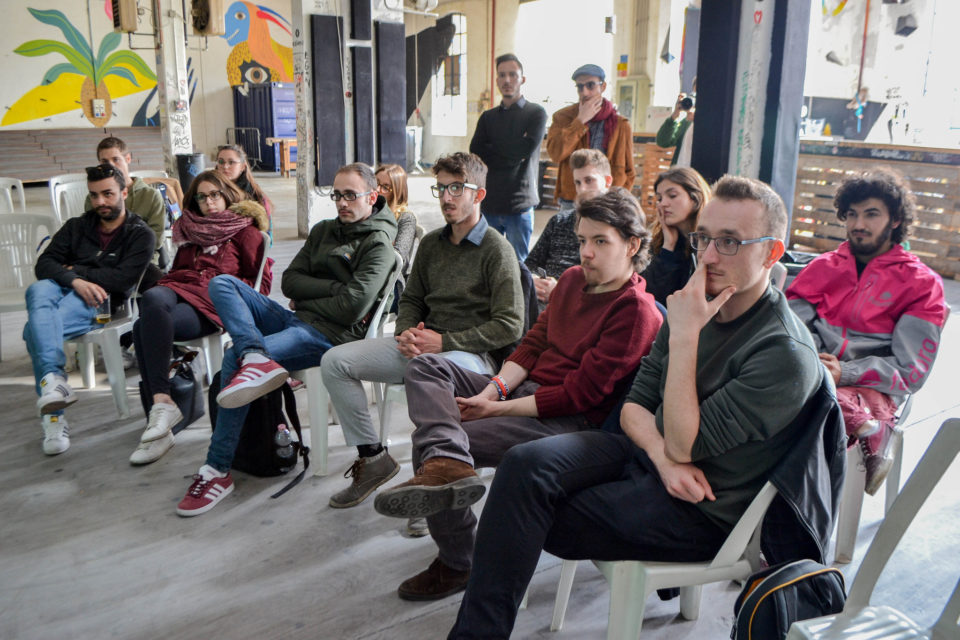 Bunker, where our our workshop was scheduled, is a club by night with artsy graffiti all over its walls, turned into a green fair for this morning by the amazing AEGEE-Torino. There were different stalls by various companies who showcased their efforts towards sustainability, the most interesting of which was Crickelle, a high protein cracker, a percentage of which is made from cricket powder- yes, the powder that you get by crushing crickets! "Cricket powder has been called the food of the future," the owner describes to me, and curious, I try one and found its taste nice enough.
There was a buffet lunch waiting for us at the Green fair, which had actually been prepared from the vegetables and fruits grown around in the local farm. There was fresh salad, barley salad, and fetatas and we really appreciated its fresh and organic nature. It completely tied up with the workshop we later went on to conduct, and which revolved around sustainability in the production of food, one of the main features of which is consuming locally produced products as far as possible. The day did not end here, as AEGEE-Torino took us to green aperitivo at the Rough bar, which was followed by a screening of a documentary which traced how climate change was affecting various communities.
Cleaning It All Up!
The next day was packed too, as we began the morning at Cas Arcobaleno with a workshop about personal sustainability, which was wrapped up with a lunch of soup and rice cooked by AEGEE-Torino from the vegetable and fruit leftovers from stores, courtesy Fa Bene. It is an organization which collects leftover food from various merchants and provides it to those who need it, creating bridges and increasing sustainability. The people who are provided the food are also asked for their services in return, to give back to community in any special way that they can.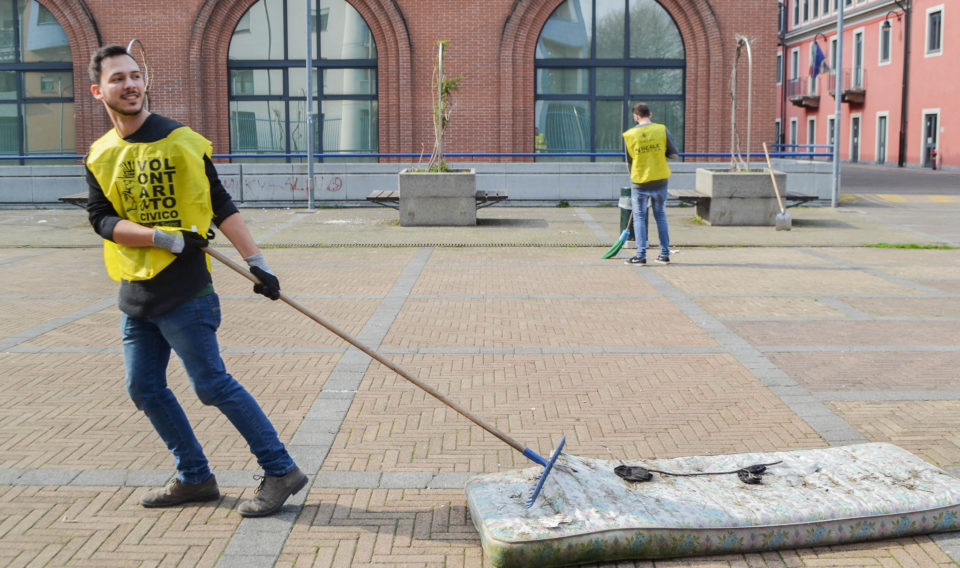 After the delicious food came a chance to work out, as we proceeded to clean up the Aurora neighborhood, taking up arms with brooms and shovels, sweeping, weeding out, and separating continuously for two hours. It was only when we cleaned that we realized how many cigarette butts and beer caps can lie in one square, and what effort must go into cleaning those everyday! It was also discovered right next to the river, in a slightly hidden part, several syringes, trash, and mattresses, stressing our attention on those who live on the fringes of society.
Torino- Straight to the Point!
Then finally on the third day, we got the chance to see some of the city as well, again with the very hard working AEGEE-Torino, as they took us around the cultural and historical centers of the city, taking us through historical landmarks that were once the site of the beginnings of the Italian unification. The city in turn put together bits that made it appear in parts like Vienna, Paris, and a northern Italian city, the most interesting being a 15 kilometre long road that never turned, never veered, and went straight, crossing through three additional villages around Torino. That, for me, characterized Torino; straight, precise, and a culmination of hard work that expanded over centuries.
Of course, my views are always colored by the beautiful Italian hospitality: our host Gabriele took care of us in every way possible way, never losing patience, always available, and ready to help, as we were overwhelmed by his generosity. It also helped that he was a great cook, whipping up classic Italian dishes for us, ranging from polenta to risotto.
How do you know that you've been successfully submerged in Italian culture? Youssef is saying 'Ciao bella' to random girls on the bus, Hanna is partially reading Italian, and I am talking more about Italian food than the Italian themselves! Every stop felt oh so long and oh so short at the same time- so intense that it felt like we were leaving multiple days in one day, yet when it came the time to leave, it felt like we had just arrived. It was saddening to leave our hosts that we met along the way, especially if we might never see them again.
This time we are not just changing the city, but also the country- stay tuned to read about our adventures in Spain!
Missed reading up on our last stop? Read about Bologna here!