This year, the routes will be even more special than previous editions. Following the recommendations and protective measures from the local and national governments, two routes will be taking place physically. Furthermore, we will have one route which is entirely online. With the online route, we can visit very remote places that normally get excluded from the project, like places far into Russia, or on the Canary Isles.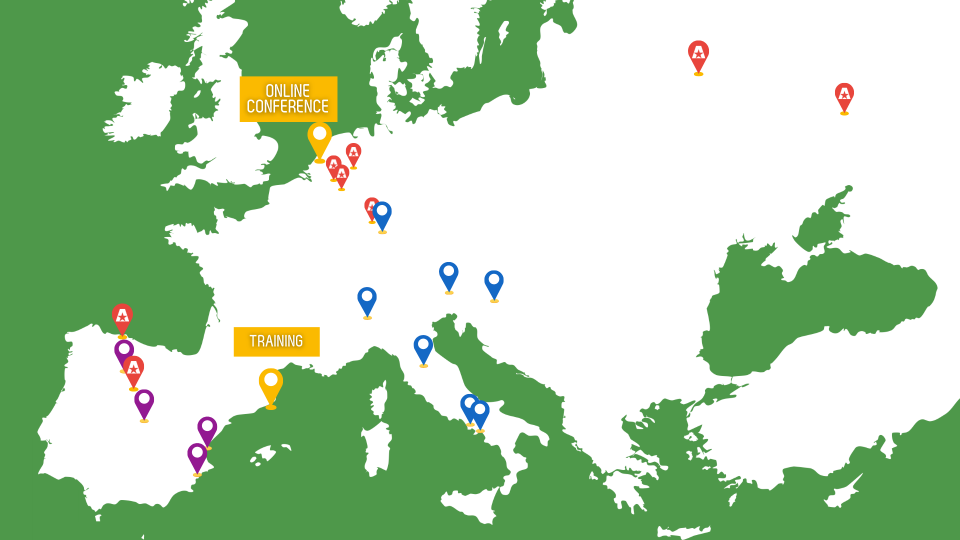 All routes will be starting in Barcelona, where the second half of the training for ambassadors (T4A) takes place. The final evaluation of the dissemination face will take place online. For information about any part of the project, like for instance the different stops on the routes, you can always check our
Facebook page
or other social media channels!
The online route has two ambassadors dedicated to giving trainings to the participants of the stops. The events on this route are open for everyone to join and participate in. Below, you can find a full list of the online sessions with some information, as well as a link to get more info on the event!
During the Routes, 6 different workshops were provided to participants. The materials for these workshops are publicly available, so you can also use them to organise an activity in your own city! Please find everything you'll need below. For any questions, do not hesitate to contact us at eot@aegee.eu.
The opening conference is the kick-off of the routes period. The conference is organised together with AEGEE-Leiden. It will take place on the 14th, 15th and 16th of May, will fully be online, and is completely free for anyone to join.
The theme of the conference is "learn to lobby, no campaign no gain". The entire weekend is filled with interesting speakers, a panel discussion and several workshops all centered around this one central topic. In these short few days, you will learn everything you need to know in order to start your own campaign.
If you want to know more, you can always check our social channels for updates, like the Facebook event.