From the 30th March to the 1st April, team red visited the impressive city of Bucharest and met the kind members of AEGEE-București. Those three days were full of fun, sun, discoveries, and interesting discussions.
Arrival in Bucharest
It took us about 26 hours to travel about 1500 km, but we made it; we arrived safe and sound in Bucharest on the 30th March at 2 pm. Ștefania and Catalin, two members of AEGEE-București, kindly picked us up to go to the National University of Political and Administrative Studies (SNSPA), where we would be attending the panel discussion organised by AEGEE-București. It was scheduled at 4 pm and we still had to go through the traffic jam of the entire city, so there was no time to waste!
The panel discussion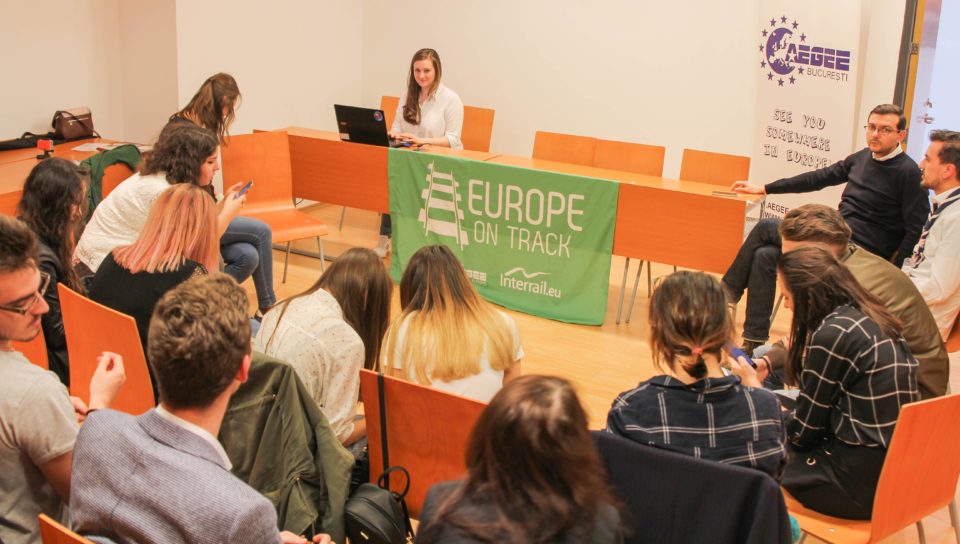 Besides us three, AEGEE-București had invited two other speakers to the panel discussion; Professor Claudiu Craciun, who teaches political sciences at the SNSPA University; and Emanuel Hadîmbu, who was representing a branch of the Scouts of Romania. For Professor Craciun, the main issue with Climate Change and Sustainability is our tendency to isolate them from our other concerns. We personally very much agree with him. In fact, during our workshops, we emphasise on the fact that everything is interconnected, therefore we ought to always take the environmental dimension into account when making decisions. It was really nice to hear Emanuel's thoughts on how scouting can play a role in this regard. Indeed, such movement enables young people to relate with nature and to better understand the importance to cherish it. Following this insightful discussion, the conclusion was that the public sector is the primary actor in the mitigation of Climate Change as individuals need more opportunities to take action. For instance, in Bucharest, only 5% of trash is properly collected to be recycled, which makes all individual efforts almost insignificant!
The city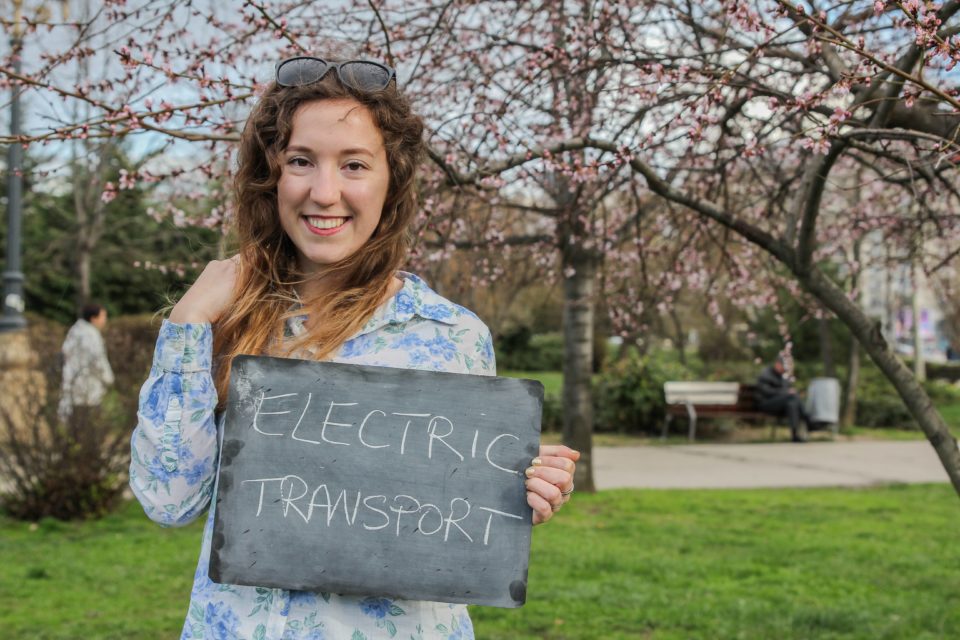 Due to its impressive buildings from the 20th century, Bucharest became known as the Little Paris of the East. The alternation between this neo-classical architecture and Soviet buildings gives Bucharest an interesting look. We had the chance to admire the old town through a beautiful sunlight, and to later enjoy its pleasant and lively nightlife. We also took the time to wander in the Cișmigiu Park under a sweet spring breeze. Many people were out spending their Easter weekend in the street, which gave us a nice opportunity to ask them about their concerns about Climate Change and their wishes for Europe. Notably, they shared with us their wish to see less pollution and deforestation, but more recycling and cooperation.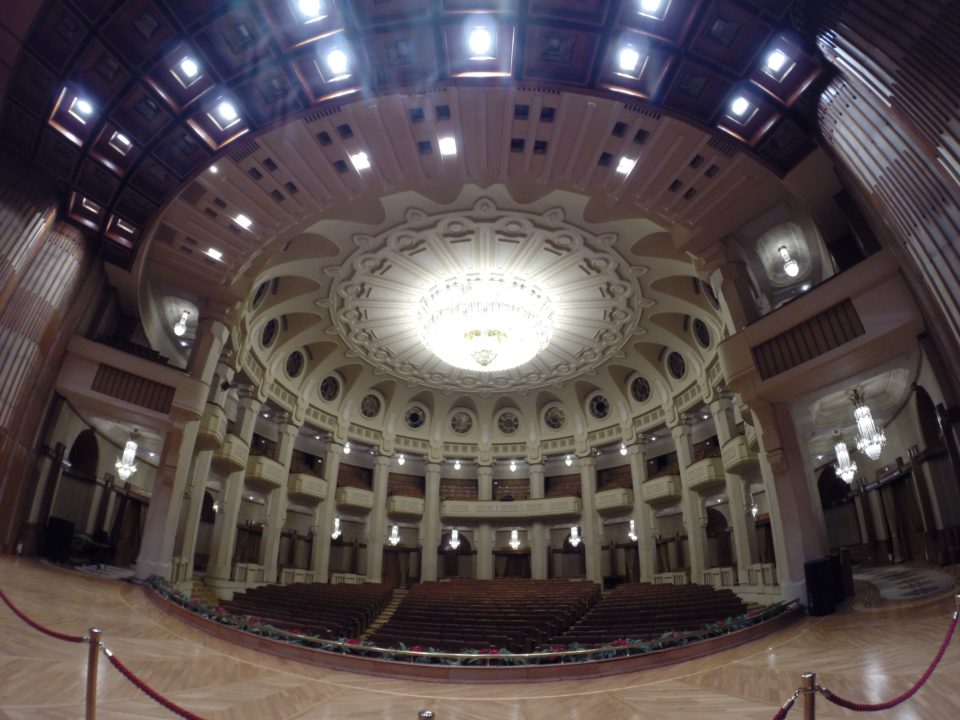 The Palace of the Parliament
We could not leave Bucharest without visiting its parliament; the world's largest administrative building after the Pentagon! The construction of this gigantic People's House started in 1983 and ended in 1997, so eight years after the overthrow of Nicolae Ceaușescu, the last communist leader of Romania. The Palace has a surface area of 365 000 m² (in reference to the number of days within a year), and 12 floors. Besides the Chamber of Representatives and the Senate, it also contains 30 conference halls, and at least 1000 rooms overall. We were really impressed to learn that all the materials (except for one wooden door) originate from Romania. The visit lasted a bit more than one hour, but we only saw 5% of the entire building. It was interesting and impressive, yet this place left us with a feeling of incomprehension. It is called the People's House, but it is hard to understand how the erection of such magnificent and luxurious place helped the people of Romania, especially when knowing that about 40 000 citizens had to be relocated due to this project.
AEGEE-București
We had a great time with members of AEGEE-București, and we are super grateful to them for making us taste their delicious local products, especially the papanași, which is a traditional Romanian dessert with doughnuts, white cheese and red-fruits jam. If you have the chance to try it, do not watch your figure, just enjoy it! We particularly want to thank our amazing hosts Kuba and Mike, thanks to whom we had lots of fun and did not get lost in this huge city! And of course, we thank all members of the antenna for their great kindness, and we hope to see them soon somewhere in Europe!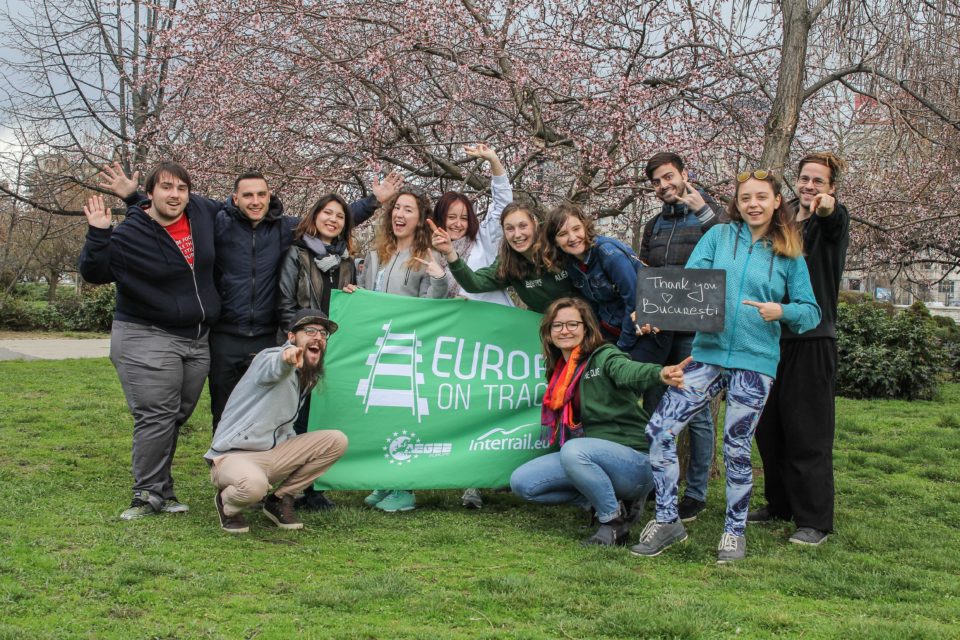 Wish to see more pictures of our third stop? Check out our album here!
Missed our blog post about our previous stop in Ankara? It is still time to read it here!
Written by Aliénor Pirlet, Photos by Marie-Claire Graf.