A beautiful city with colourful architectures from the tsarist and Soviet times reflecting its rich history and culture, Kyïv is definitely a place to experience. Team red had the chance to stop there from the 4th to 6th April and simply loved it!
From Bucharest to Kyïv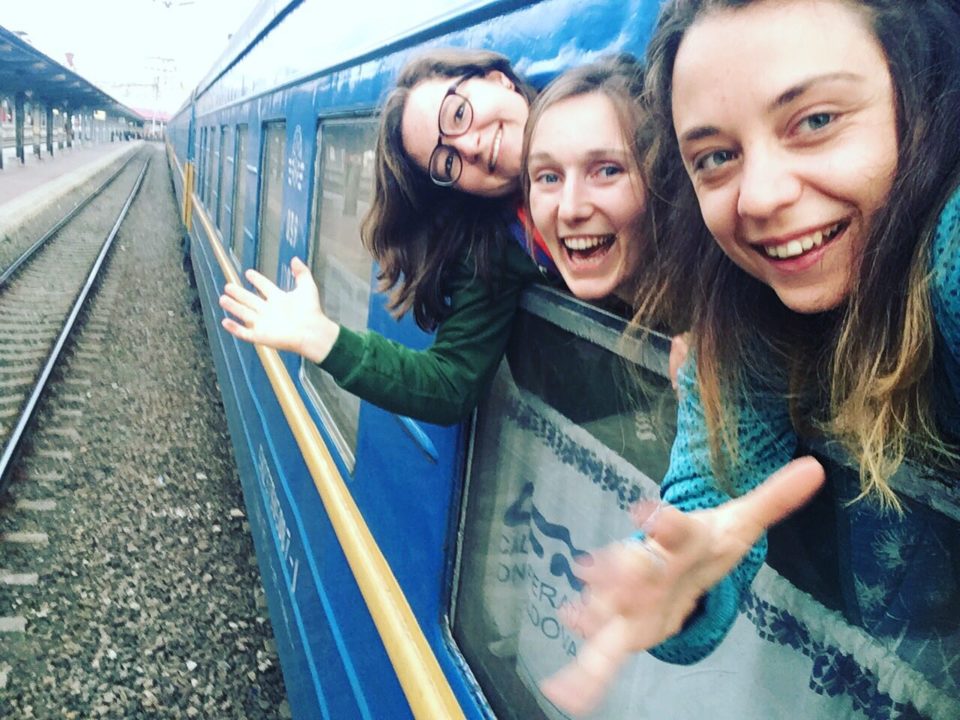 After our nice stop in Bucharest, we took the night train to Chisinau on the 1st April. For Iveta and I, this was the first time we were staying in a sleeping cabin, so we were really excited! The train was really old, which gave us the impression to be in the 50s for one night. We had a cabin just for the three of us, so it was both cosy and a lot of fun. After the border control, the train stayed put 2:30 hours longer, the time for workers to change the wheels of all the wagons by hands.
Although this procedure is very demanding, it is necessary, for the railway tracks in Moldova are broader. We arrived in Chisinau in the morning and stayed there two days, during which we had our online stop with AEGEE-Muğla. Even though delivering a workshop via Skype is quite challenging, we hope they enjoyed it as much as we did! We left the Moldovan capital by bus, excited to reach our fourth stop, yet definitely unprepared for the sleepless night awaiting us. Not only did we have to cross three borders (because we were crossing Transnistria), we also had to suffer the 500 km of bumpy roads along the way. However, AEGEE-Kyïv made it be all worth it. No sooner had we arrived than they were welcoming us with a royal breakfast. And of course, we did not miss on the Ukrainian tradition according to which visitors must be welcomed with bread and salt to share together.
Ukrainian cuisine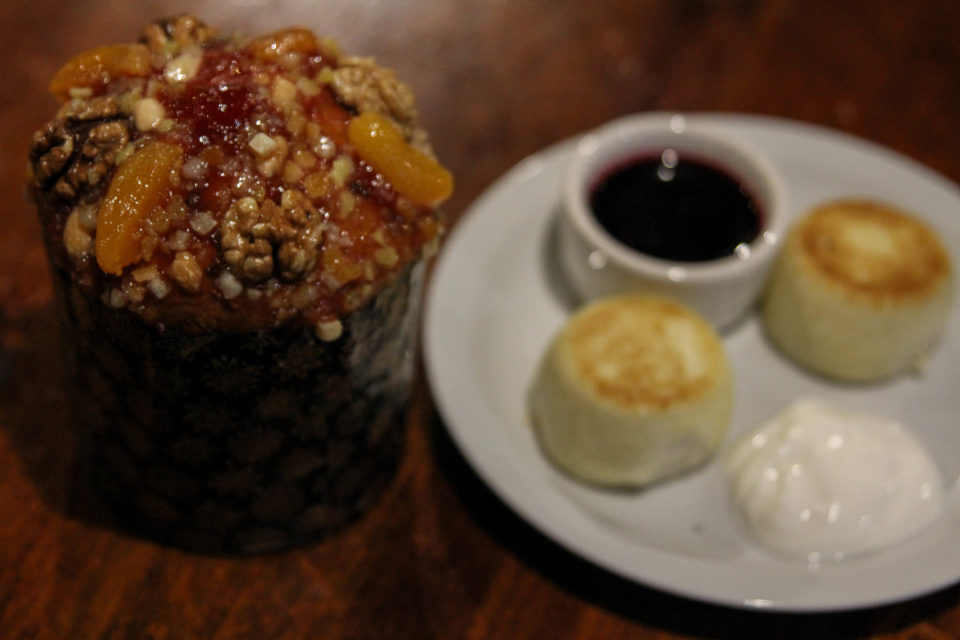 One thing is certain: members of AEGEE-Kyïv know how to take care of their visitors, and mainly by feeding them on delicious food! On the day of arrival, they cooked for us a vegetarian borsch (a kind of red soup with vegetables and potatoes), and a tasty couscous. And on top of it, Stas even prepared a homemade cheese!
Later in the evening, we continued to taste some famous dishes of the Ukrainian cuisine such as varenyky (Ukrainian dumplings filled with cheese or cabbage); delicious syrnyky (cottage cheese pancakes with smetana, a.k.a. sour cream, and jam); and we even had the chance to try a Paska, the famous Ukrainian Easter bread.
The city
Kyïv is definitely worth visiting. Its rich history and many memorials give it a touch of melancholy, yet its colourful architecture and its people make it a joyful and exciting place to discover. The downtown of the city reflects this perfectly. On the one hand, the main avenue Khreschatyk is a busy street full of animations and social spots. And on the other hand, the avenue leads to Maidan Nezalezhnosti, the square of independence, which is a powerful place of commemoration. With Karina as our guide, we travelled through the centuries learning more about the history of the city. We saw there the statue of the founders of the city; three brothers and their sister who, according to the legend, organised the settlement of the city in the 5th century, and named it after one of the brother. On the other side of the square, there stands on top of the former Eastern yellow gate St Michael angel, the patron of Kyïv. Karina also reminded us about the February crisis in 2014 that took place on this very spot. Its traces are still visible as some of the pavements have been replaced after they were thrown by protesters on public forces. Festivities used to be on that square but now happen up the hill on Sofiyivska Square, due to the strong symbolic status of Maidan square. Since it was Easter time, we went to Sofiyivska Square, and had the chance to walk by an exposition of colourful and amusing painted eggs and rabbits.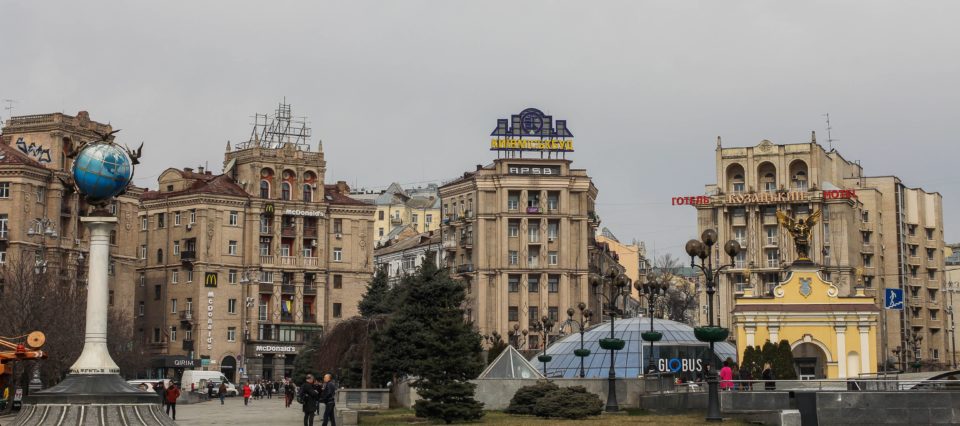 Mykhailivskyi Cathedral
Mykhailivskyi Cathedral is also known as Zolotoverkhyi Cathedral because it was the first one with golden domes in Kyïv. However, this monument is only 16-year-old. It was completely destroyed in the 20th century by the Soviets in order to build an imposing administrative area. In the end, only the building of the headquarters of the communist party (which is now the foreign affairs building) was constructed, which gave Ukrainians the possibility to rebuild the Cathedral a couple of decades later right next to it.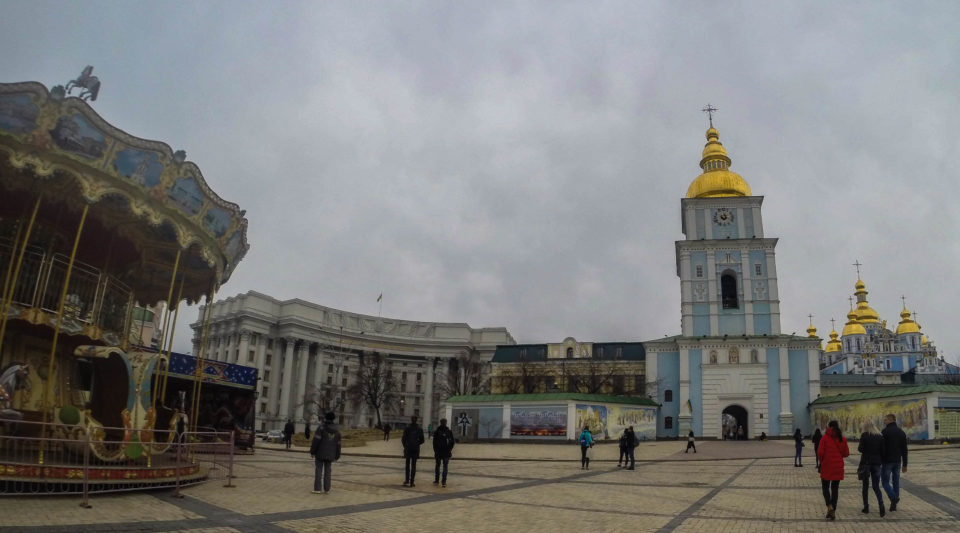 Workshops
All this good food and nice visits were incredible, but do not worry, it did not make us forget about our primary goal in Kyïv; we also delivered workshops and interviewed young people. For this, we went to the Taras Shevchenko University, which is named after one of the most prominent romantic poet, writer and painter of Ukraine. Interesting talks and thoughts came out of our first workshop on Climate Change and Sustainability, notably about the urgent need to tackle the lack of interest of young people on the topic. Most of the participants' ideas to tackle this issue involve social media and celebrities. For instance, a group presented a plan to organise a 'meme' contest in order to increase the discussion on the topic in social media.
During our workshop on Economic Sustainability, we invited participants to reflect on the main current economic system and its conflicting aspect with the concept of sustainability. Our aim was to bring attention to the fact that there are other ways to conceive of the economy than as a linear model driven by growth and profits.
Lastly, we delivered a workshop on Social Sustainability during which participants learned more about the link between social justice and sustainability. This led to a lively discussion mostly touching upon the topic of fast-fashion. Some tips on how to have a more sustainable lifestyle were also shared with the group. It struck me to hear that in the Ukrainian mentality, people hardly reuse plastic bags despite their ecological concerns, because this is seen as a sign of poverty.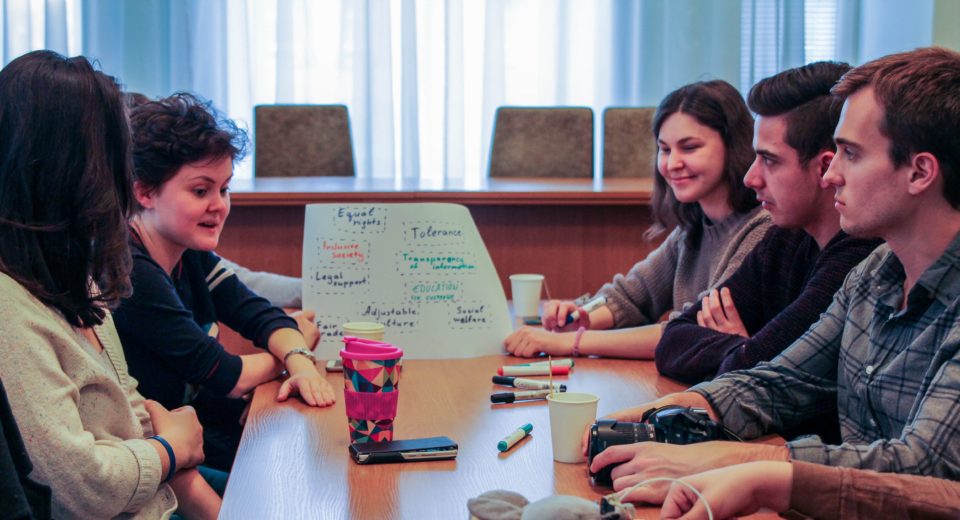 The young people we interviewed generally wish to learn more about Climate Change and Sustainability directly via formal education, because at the moment they mostly rely on internet sources and social media, and it is not enough to raise awareness and foster change within the population.
AEGEE-Kyïv
Thanks to the caring and adorable members of AEGEE-Kyïv, we had an amazing time and fell in love with the Ukrainian capital. We thank them infinitely for their hospitality, especially to our host Anna, and to Karina, Stas, Anna and Elina for their kind support and enthusiasm! See you all somewhere in Europe!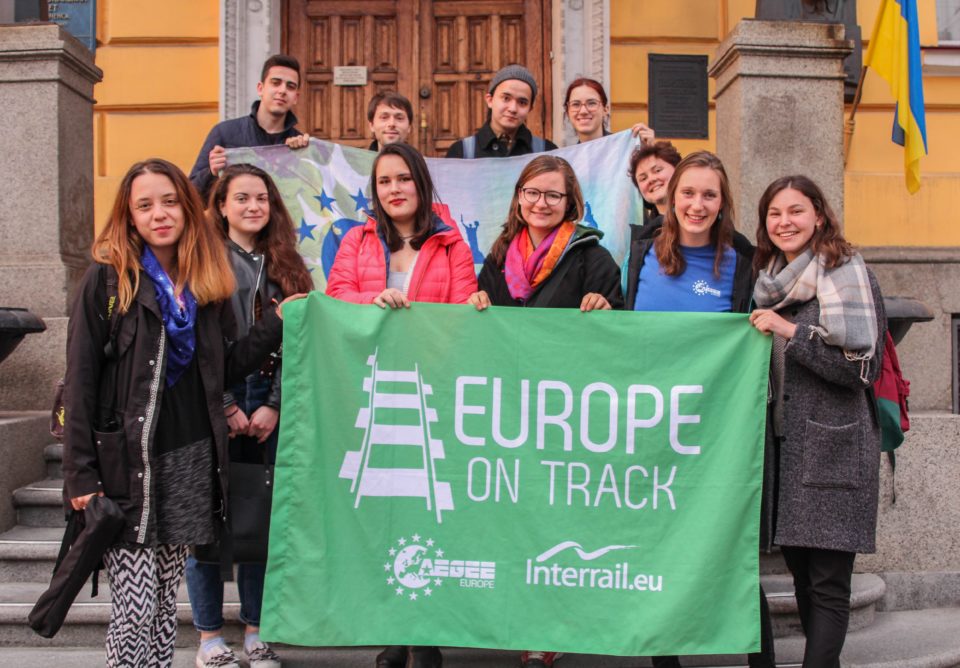 Wish to see more pictures of our fourth stop? Check out our album here!
Missed our blog post about our previous stop in Bucharest? It is still time to read it here!
Written by Aliénor Pirlet, Photos by Marie-Clair Graf.