Femicide, also known as feminicide, is by far the most severe type of gender-based violence (GBV), described as "the deliberate murder of women because they are women."
In 1801 the term femicide originated specifically to convey the action of murdering women. Later on, Wharton's law lexicon decided to officially publish the term in 1848.[1] Another terminology utilized is "feminicide", which comes from the Latin word femina, which means "female". The present terminology began with the feminist movement in the 1970s, which also attempted to enhance feminine awareness and opposition to gender discrimination, also, feminists implemented the phrase to put aggression against women into the political realm.[2]   Some scholars argue that there are two versions of femicide. The first is the killing of women due to their gender and the second is the killing of women because they are designated as "women". This definition was proposed by British scholar Juliet Mitchell in her radical feminist essay 'Sisters and Strangers' (1970), followed by her book "Woman's Estate" (1975), where she explains and distinguishes the different forms of femicide. However, Various typologies of femicide have been proposed by researchers in the past several decades with most distinguishing 'intimate femicide' from various other types of femicide (e.g., familial femicide and stranger femicide).[3] The categories of femicide are defined as:
Intimate femicide, also known as intimate relationship femicide, refers to the murder of women by present or previous partners. Women are far more likely than males to be assaulted, raped, or killed by a partner or ex-partner across the world, which most typically occurs in partnerships with a background of domestic partner abuse.[3]
Non-intimate femicide entails the murder of women by those with whom they did not have an intimate partner relationship and includes a wide range of femicide subtypes such as family femicide, 'other known offender' femicide, stranger femicide, Honour killings, dowry death and femicide suicide.[3]
Femicide in war and conflict settings. The systematic targeting of women and mass rape are used to demolish local populations and humiliate opponents during times of war, genocide, and armed conflict. Rape victims may be marginalized and killed as a result of their ordeal. "These unreported gender-based killings of women and girls may dramatically increase the global number of [femicide] victims," according to the UNODC.[4]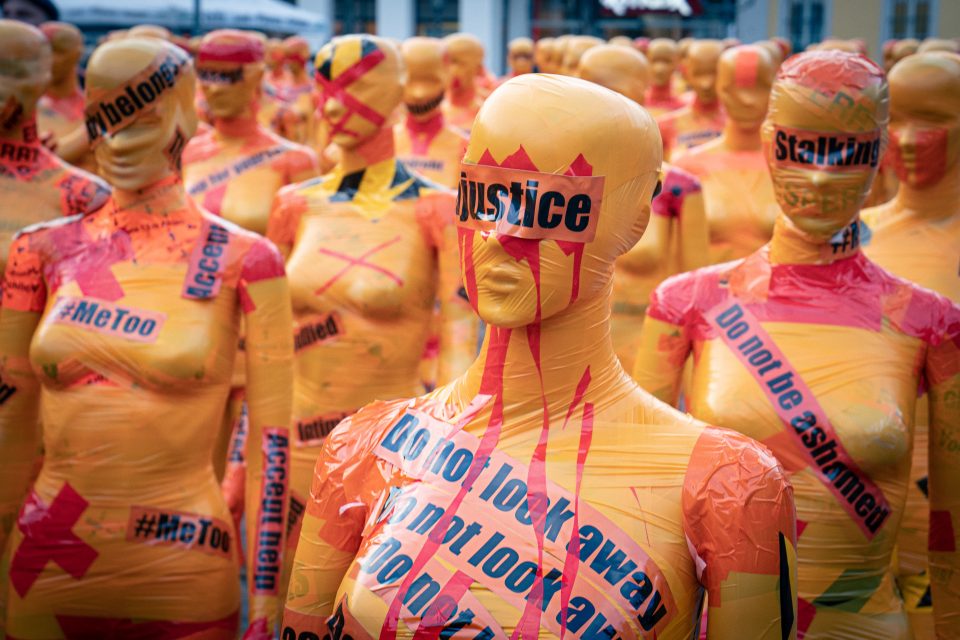 International reaction to "Femicide":
The United Nations General Assembly amended its policy in 2013, acknowledging that "gender-related homicide of women and girls has been criminalised in some nations as "femicide" or "feminicide," and has been integrated into national legislation in such countries." Dr. Dubravka is currently the UN Special Rapporteur, she has been an outspoken supporter of anti-femicide policy implementation. She has delivered studies to the UN such as "Modalities for the Establishment of Femicides/Gender-Related Killings." [5] In 2020, an independent UN human rights expert stated that COVID-19 is overshadowing what has become a "pandemic of femicide" and related gender-based violence against women and girls, Therefore, Dr. Dubravka proposed a "femicide watch" initiative to track femicide practices worldwide. Simonovic's academic program's purpose is to analyse data on femicide instances in an attempt to detect risk indicators and any difficulties in policymaking.[5] UN Women indicates through their online awareness campaign "shadow pandemic" that the Emerging data shows an increase in calls to domestic violence helplines in many countries since the outbreak of COVID-19. Also, Sexual harassment and other forms of violence against women continue to occur on the streets, in public spaces and online.
Statistical framework:
According to research published by the United Nations Office on Drugs and Crime through a statistical framework indicates the Key finding as follows;
 

Homicides in the domestic sphere impact all sexes, but women and girls bear the burden of deadly domestic violence, accounting for around 6 out of every 10 homicide victims slain by intimate partners or other family members.[6]

 

47,000 women and girls were killed by their romantic partners or even other friends and family in 2020. This implies that every 11 minutes, a woman or girl is slain by a member of her own family. Further, Global data on the impact of COVID-19 confinement measures on gender-based violence against women and girls remains sparse and ambiguous.

 

From 2019 to 2020, the average yearly number of these homicides increased by 11% in Western Europe and 5% in Southern Europe. Northern Europe had seen a slight change, whereas Eastern Europe showed a modest drop. In comparison, the number of gender-related homicides of women and girls surged by 8% in Northern America, 3% in Central America, and 5% in South America. These increases were comparable to prior yearly changes documented during the last decade.

 

The UNODC Monthly records from a limited number of nations spanning the period October 2019 to December 2020 indicate substantial diversity in patterns among countries but imply that, overall, female intimate partner/family-related homicides remained mostly unaffected by those nations' lockdowns.[6]
Policies and measures to combat Gender-based killing:
In order to solve the issue of gender-based violence against women and girls, four approach domains are critical:
 

Bridging statistical data gaps in female and gender homicides: 

For efficient and integrated steps to avert, detect, and prosecute gender-related killings of women, it is critical to acquire, analyse, and share necessary data. Comparability and accessibility of exact information are critical for characterising the scope of gender-related homicide in its many expressions, reasons, and repercussions.[6]

 

Preventing and addressing femicide & GBV:

At least 155 nations have implemented domestic abuse legislation, and the majority of national action plans on gender-based violence or crime against women contain explicit domestic and intimate partner abuse initiatives. Domestic violence can be prevented by a variety of measures, including protective orders, domestic violence services, firearm control, and divorce. On a national and municipal level, numerous states produced a legislative frameworks, policies, and action plans on violence against women.
o   In Germany, for instance, the Federal Government's Second Action Plan to Fight Violence Against Women includes over 130 measures and programs that are implemented in collaboration between state institutions and non-governmental support agencies.[6], [7]
o   The National Strategy for the Eradication of Violence Against Women (2013-2016) in Spain outlines specific strategies to avoid and respond to various forms of violence. Relevant actions were made in the United Kingdom of Great Britain and Northern Ireland on the basis of the "Call to End Violence Against Women and Girls" strategy, which applies to England and is followed by an annual action plan.
 

Ensuring effective prosecution and sanctions for perpetrators of gender-related killings
o   Preventive measures include criminalising and responding quickly to acts of violence that occur before the homicide. States have taken relevant actions such as reforming legislative, policy, and institutional frameworks, as well as awareness-raising and larger educational activities to address gender inequality as a source of brutality against women. Also, Coordination between criminal justice agencies and collaboration with other governmental and non-governmental partners are key to ensuring successful criminal justice responses to gender-related killings of women and girls.
 

Investing in evidence-based prevention of GBV against women and girls:
Long-term strategies at several levels are required to decrease the frequency of GBV and the number of gender-related homicides of women and girls. The United Nations system has highlighted seven essential strategies to prevent GBV, outlined in the R.E.S.P.E.C.T framework,[8] The framework was developed by the WHO and UN Women and is endorsed by an initial 12 other UN agencies and bilateral partners. Each letter conveys a strategy:
[R] Relationship skills strengthened: strategies to improve skills in interpersonal communication, conflict management and shared decision-making.
[E] Empowerment of women: economic and social empowerment strategies including those that build skills in self-efficacy, assertiveness, negotiation, and self-confidence.
 [S] Services ensured: ensuring a range of services including health, police, legal, and social services for survivors of violence.
 [P] Poverty reduced: strategies targeted to women or the household, whose primary aim is to alleviate poverty.
[E] Environments made safe: efforts to create safe schools, public spaces and work environments, among others.
[C] Child and adolescent abuse: strategies that establish gender-equitable and nurturing relationships by parents, educators and others working with children. This strategy demonstrates the overlap between violence against children and violence against women.
[T] Transformed attitudes, beliefs and norms: strategies that challenge harmful gender attitudes, beliefs, norms and stereotypes.
Overall, to effectively eradicate and decrease Gender-based killing and femicide, we need to Consider enhancing international cooperation in these cases, including by ratifying and implementing the Council of Europe Convention on Preventing and Combating Violence against Women and Domestic Violence (Istanbul Convention) and their follow-up mechanisms. Also, Evaluate, assess, and modify national laws to adequately address gender-related killings of women, such as providing for specific offences or aggravating circumstances where appropriate, and reviewing legislation to ensure that it does not include discriminatory factors such as "passion," "violent emotion," "honour," or "provocation" that enable offenders to avoid direct prosecution.[7] With the support of relevant United Nations entities, proficient regional institutions, and civil society, including academic and research institutions, we will proceed and improve international cooperation and technical support to discuss capacity gaps and the exchange of information on the deployment of promising practices to prevent and address gender-related killings of women. 
By Raghda Salem A. Elziyadi
References
[1]    Canadian Femicide Observatory for justice and accountability, "The history of the term 'femicide,'" 2012. https://femicideincanada.ca/about/history (accessed May 21, 2022).
[2]    Paulina  García-Del  Moral, "The Murders of Indigenous Women in Canada as Feminicides: Toward a Decolonial Intersectional Reconceptualization of Femicide," Women in Culture and Society, pp. 311–315, 2019, Accessed: May 20, 2022. [Online]. Available: https://www.journals.uchicago.edu/doi/full/10.1086/696692
[3]    Canadian Femicide Observatory for justice and accountability, "Types of Femicide," 2020, Accessed: May 21, 2022. [Online]. Available: https://www.femicideincanada.ca/about/types
[4]    C. Corradi, "Femicide, its causes and recent trends: What do we know?," 2021.
[5]    Helen Hemblade; Andrada Filip; Andrew Hunt, "Femicide Volume VII : establishing a femicide watch in every country.," Academic Council on the United Nations System (ACUNS), 2017, Accessed: May 21, 2022. [Online]. Available: https://www.worldcat.org/title/femicide-volume-vii-establishing-a-femicide-watch-in-every-country/oclc/1029877523
[6]    UNODC, "Killings of women and girls by their intimate partner or other family members," 2021.
[7]    United Nations, "Action against gender-related killing of women and girls Report of the Secretary-General," 2015.
[8]    UN-Women, "How to use the RESPECT framework implementation guide." Accessed: May 22, 2022. [Online]. Available: https://www.unwomen.org/sites/default/files/Headquarters/Attachments/Sections/Library/Publications/2020/RESPECT-implementation-guide-Overview-en.pdf