Do you want to become a member of a team of young passionate volunteers coming from all around Europe?
Do you want to contribute to an award-winning project while learning and developing new skills?
Now YOU get the chance to shape the seventh edition of Europe on Track!
Europe on Track is a project of AEGEE, run by young volunteers who aim to raise awareness, to create a space for discussion and to capture the opinions of youth in Europe on important social issues.
Thanks to Interrail, 6 ambassadors in 2 teams (one videographer, one photographer and one interviewer per team) travel by train across 10+ countries in one month to deliver workshops, interview young people and organize events in cooperation with 200 volunteers from over 20 cities in Europe.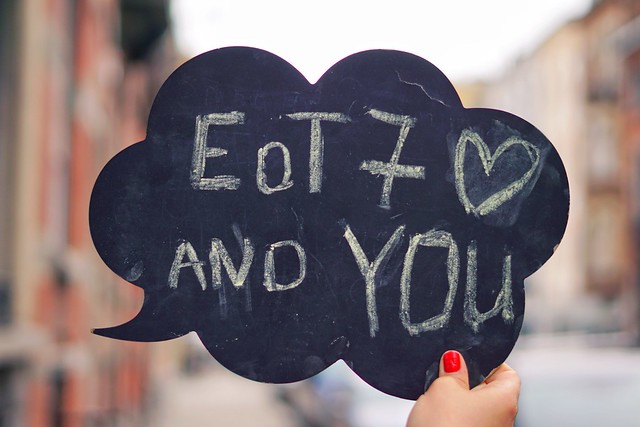 EoT has also already accomplished a lot in the past:
The first edition took place in 2012 and addressed people's vision for Europe in 2020, the project had a great success and was awarded the prestigious Charlemagne Youth Prize (granted to the best youth European project) in 2013.
In 2014, the focus was on the elections for the European Parliament to increase voter turnout, and in 2016, we had "Borderless Europe" as a theme, tackling the topics related to migration and the refugee crisis. Last year, we focused on putting Sustainability and Climate Change on the table for 3000 young people in Europe.
This year we, with the help of Erasmus+ project "My Europe, My Say", tackled "The Future of Europe through youth participation". We reached more than 1000 people personally and over half a million online.
We want to keep up the success of Europe on Track so we are inviting new people (within and outside of the AEGEE network) to join the Project Team to contribute their ideas, opinions, energy and time to improve the project and make the next edition possible.
A project like this requires a lot of work behind the scenes and we are giving you the chance to challenge yourself and become part of a great team!
 We are looking for people interested in the following fields:
Content
Definition and implementation of the theme

Leading the preparation of workshops together with ambassadors
Routes
Planning of the stops, thoroughly checking all transportation, coordinating with the AEGEE locals for the logistics part and scheduling of the stops.
Social Media and Design (Graphics, social media, website)
Definition of the PR strategy of the project, creation of any kind of promotion material and ensuring the maximum visibility of the project and the clarity and availability of the information.
Finances
Keeping track of all expenses and managing the budget of the whole project.
Fundraising
Definition of FR strategy, research and application of every possible grant or sponsorship.
External relations
Research and communication of external partners (e.g. NGOs, institutions).
SO! If you are:
responsible and reliable with tasks and deadlines

motivated, enthusiastic and open minded

willing to work in an international team

interested in working on one of the fields mentioned above or have previous experience in it
and want to:
contribute to an inspiring project

learn and develop new skills

have fun while working hard

(and last but not least) create the best edition of Europe on Track so far!
How we work:
Skype meetings

: Weekly or biweekly – depending on the period –  with the whole team, every now and then also with the working group (e.g. Social Media).

Live meetings:

Every few months we try to meet in-person. EoT6, for example, met in Brussels for a weekend in June and in October, in addition to meeting at the Agoras and for the events of the project. It is not mandatory to attend, but we try to make it as easy as possible for you to come, for example by covering a part of your costs, or by finding the optimal location.
-Indicative Timeframe:
May – September 2019
The selection process of Project Team

Knowledge Transfer

Finalisation of EoT6

Deciding on the topic of EoT7

FR Strategy
September – November 2019
Grants application

PR Strategy

Open Call for Locals and Ambassadors

Selection process of locals and route definition
December 2019 – February 2020
Selection process of Ambassadors

Provisional Budget
March – April 2020
Ambassadors' Training

Journey preparation (PR, FR, Content, Coordination)
April – May 2020
Management of the journey

Conference
May – September 2020
Follow-up

Preparation for the following edition
-Workload
You will be expected to dedicate around 8 hours per week to the project, still, since it is a volunteer-based project there is some flexibility. Usually, the busiest period is the one just before the start of the journey.
-What will you get for being part of the PT?
You will be able to work for an AEGEE-Europe/Interrail project with high internal and external visibility, gaining experience in your own task while putting yourself directly at play on an international scale.
-When?
The selection process of the project team – that will also include video interviews – is taking  place during May and June and the knowledge transfer process will start just after, with a possible live KT meeting happening in   
-Any questions?
Contact us via our facebook page or by mail (hello@europeontrack.org) for more information. We are waiting for your questions!
N.B. The new project team will take care of writing and publishing the open call for the travellers for the next edition.
Being in the core team of the Project is not equal to becoming an Ambassador and travelling through the routes.